Planetarian Vol 26, No. 2, June 1997

Moon Handbook: A 21st-Century Travel Guide, by Carl Koppeschaar, Moon Publications, Inc., P.O. Box 3040, Chico, California, 95927-3040, ISBN 1-56691-066-8, $10.00.

Reviewed by Francine Jackson, University of Rhode Island Press, Providence, Rhode Island, USA.

More than once, I had to step back and remember that, just because author Koppeschaar had apparently written the book's preface at Moon City, June 2020, this is a work of fiction. It is so skillfully put together that the reader most often remind him- or herself, "Hey! That hasn't happened yet" The ESA didn't crash-land its first orbiter in January 2000. There is no joint US-Japanese company producing food and air next to Mount Schneckenberg.

At least not yet. Carl Koppeschaar has given us a handy reference guide to what might be. He has already laid out the best tourist sites (start at the Moon Museum), giving hiking and walking tour layouts - cautioning us not to walk on the designated protected areas - and chartering lunar modules for extended trips. All aspects of the voyage are covered: when best to go (between new and first quarter), where to stay (Mont Blanc Resort is highly recommended), how to solar sail, and using the go-carts for rent at Plato.

Interspersed in this are myths and legends galore, from Jack and Jill to the Moon illusion (ignore the backward Moon on page 125), Johannes Kepler to Jules Verne. Also, there is a good history on spaceflight, listing every Moon mission, manned and unmanned, all the way up through Chememtine - and beyond.

This book is one of a series from Moon Travel Handbooks. Apparently, the progression from Earth to Moon seemed obvious, and Koppeschaar has made a terrific preparation for future travel to our nearest neighbor. Utilizing Tirion maps, beautiful photographs of the lunar surface and exquisite artwork (future photographs?) of resort and manufacturing areas, this handbook is a visual delight. Too bad we can't pack it in our suitcases for use right now.
---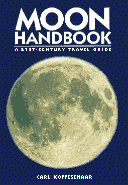 Back to Moon Handbook
---

Back to ASTRONET's home page
---