The light side of the moon
The Daily Telegraph, 17 February 1996 (London, United Kingdom)
A guidebook will be published next week to a destination that has yet to be visited by a single backpacker, let alone a tour operator. Indeed it has not been visited by the writer himself. Moon Publications, a US company best known for guides for the Americas and Asia, has produced a guide to the moon.
Moon Handbook: A 21st-century Travel Guide (£ 6.95) is written, according to the preface, from Moon City in the year 2020. It begins conventionally enough, documenting geology, history and exploration.
Then, "rooting fiction solidly in fact", it moves on to sightseeing highlights (the Hall of Diminished Gravity), recreation (solar-powered go-karts) and food and drink (a Moon Rover's Lunch of bread, cheese and moonshine, the milky juice of a vine brought from east India). All these can be paid for with credit cards or the local currency, the selene, named after the Greek goddess of the moon.
Eco-tourists will be glad to hear that conservation measures are already in force. Neil Armstrong's "first footstep" has been covered in plexiglass and the "hordes of visitors" must stick to marked paths.
The guide was written by Carl Koppeschaar, a Dutchman who contributes to popular science magazines. It is as timely as it is fanciful: NASA, the American space agency, and 16 aerospace firms have recently begun a study "with a view to establishing a US space tourism business".
Sue Booth, spokeswoman for the publishers, says the book is "sort of tongue-in-cheek, a bit of a play on the name of our company. If you were going to the moon, this would be a good start, but is's more literature than science."
Moon, established in 1973, publishes guides that are solidly researched if a touch wordy and preachy. It has about 60 titles in print and the most popular, on Indonesia and Arizona, have each sold more than 100,000 copies.
It hopes the first edition of Moon on the moon will sell at least 10,000. "A lot of our readers," says Booth, "pick up a book not necessarily because they are planning a trip but because they want some background. Schoolchildren use them for writing reports." So prepare for tantrums when teacher says the journey can't be done.
Michael Kerr
---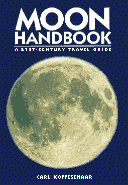 Back to Moon Handbook
---

Back to ASTRONET's home page
---