Asteroid (7973) Koppeschaar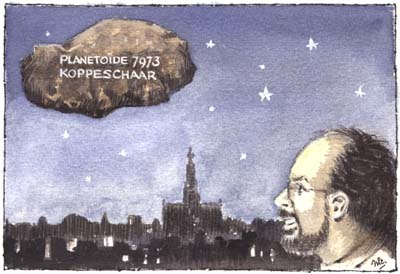 Illustration: Nico van Dam
---
---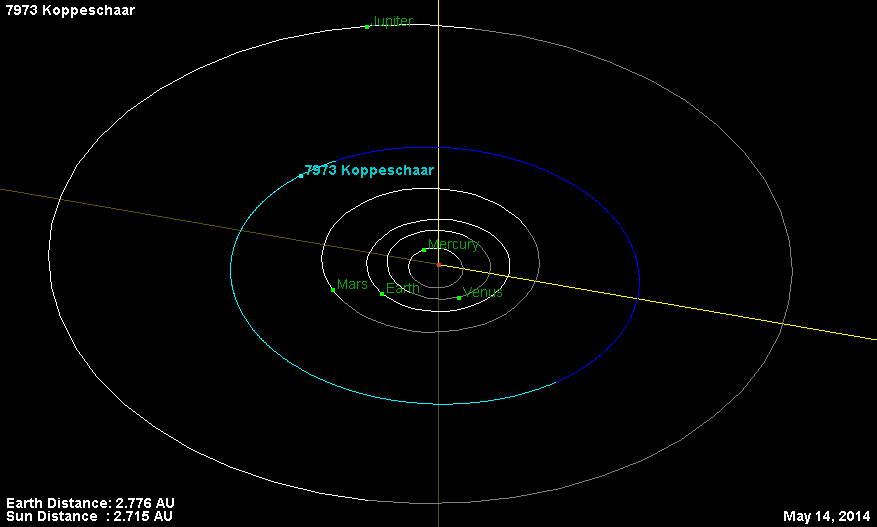 Orbital simulation of (7973) Koppeschaar

(Courtesy: Alan B. Chamberlin and Ron Baalke)


---
ASTEROID 7973 KOPPESCHAAR
March 24, 2000

Thanks to Ron Baalke, Near-Earth Object Webmaster at the Jet Propulsion Laboratory, I can now view orbital simulations of my own asteroid 7973 Koppeschaar.

This is what Ron Baalke wrote:


Fri, 24 Mar 2000

Subject: New Orbit Visualization Tool Online

A new Orbits section has been added to JPL's Near-Earth Object home page. The highlight is a cool visualization tool. It is an interactive 3D orbit viewer written in Java, and you can view the orbit of any asteroid or comet. You can rotate the orbits around and zoom in, move around the solar system and "play" the orbits backwards and forwards like a movie. It resides right here:

http://neo.jpl.nasa.gov/orbits

You'll have to select an object of interest first, by either entering the asteroid/comet's name (wildcards are allowed), or making a selection from the table of Potentially Hazardous Asteroids provided.

Ron Baalke




So have a look at the specific orbit of 7973 Koppeschaar!


Februari 22, 2000

Today I was able to locate my own minor planet on SkyMorph's plates that are on the Internet. Thanks to SkyMorph curator Thomas McGlynn for pointing me to that great site!

This is an image of 7973 Koppeschaar that is on DSS plate xe490 dating back to February 4, 1951: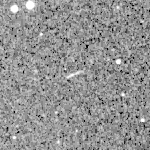 7973 Koppeschaar is the little trail amidst the fixed stars. The trail is due to its velocity. 7973 Koppeschaar is speeding around our solar system at a mean velocity of 60,000 km/h.


This is what Tom McGlynn kindly wrote to me:

Dear Carl,

You might want to try the SkyMorph web site to look for your asteroid in the NEAT archive and in the DSS and DSS2 plate surveys.

Look at:
http://skys.gsfc.nasa.gov/skymorph/skymorph.html
and more particularly the moving target form:
http://skys.gsfc.nasa.gov/skymorph/mobs.html

Just enter the name (or number) of your asteroid in the moving target selection form and you'll get back a list of NEAT images, and DSS and DSS2 plates on which the asteroid might be found.

On this returned list, you can check all of the images, and I'd also check the triplets and SkyView comparison boxes.

When I tried this your asteroid was in the field of three NEAT triplets (sets of three images taken about 20 minutes apart) and showed up as a little traffic light of red-green-blue in the first. When you check the triplets box the SkyMorph page adds together the three elements of the triplet so that static objects sum to white but moving objects have this characteristic appearance.

I didn't see much indication of the asteroid in the later triplets.

There is a very clear detection on the DSS plate xe490 which has an epoch of 1951 -- it might be usable in improving the orbit if it's not already used in the solution. There are fainter trails in the DSS2 images, but the asteroid is predicted to be more than a magnitude fainter at those epochs.

The SkyMorph site is very slow. Expect to wait 10 minutes before you get a response (it takes a long time to compute the ephemerides) But I hope it is useful to you.

Congratulations,

Tom McGlynn
NASA/GSFC/USRA




February 1, 2000

I am still a bit overwhelmed. Yesterday I received an e-mail from American astronomer Dr. Tom Gehrels who stated: "PS, it just came out that a poor asteroid is tootling around with the name Koppeschaar."

Would Tom have named an asteroid after me? I didn't dare to hope. Although there are about ten thousand asteroids with a known orbit, namegiving to a mortal is an exception. Of my fellow countrymen Rembrandt, Van Gogh, Vondel and Anne Frank were honored with an asteroid. Some other well known names: the Beatles, Marlene Dietrich, Audrey Hepburn, Alfred Hitchkok, Georg Gershwin, Conan Doyle, Jules Verne, Isaac Asimov, Jacques Cousteau and Donald Duck cartoonist Carl Barks.

Later on in the evening I got the confirmation by the International Astronomical Union's Minor Planet Center. Asteroid (7973) 1344-T2 is now known by the name "Koppeschaar".

7973 Koppeschaar has an orbital period of 4.86 years. It orbits the Sun at a mean distance of 429 million kilometers. It is a steady "mainbelter" between the orbits of Mars and Jupiter. According to Gehrels its diameter is about 6 kilometers. Its surface area is therefore 113 square kilometers. Apparently, I may call myself a landlord now!

Carl Koppeschaar
---
MPC 38197
Jan. 24, 2000
(7973) Koppeschaar = 1344 T-2
Discovered 1973 Sept. 29 by C.J. van Houten and I. van Houten-Groeneveld on Palomar Schmidt plates taken by T. Gehrels.

Carl Egon Koppeschaar is a science writer and reporter in the Netherlands. He is internationally known for popularizing astrophysics and space science, for debunking pseudoscience, and for taking action against light pollution. His Moon Handbook: a 21st-Century Travel Guide is a delight.
---
HOW DOES 7973 KOPPESCHAAR LOOK LIKE?
I don't know yet. Maybe SpaceDev or a future Deep Space flight could take a look. We know how other minor planets or moonlets of planets that were captured from the asteroid belt look like. Below an animated gif of asteroid Eros taken by the NEAR spacecraft and some links to images of asteroids: