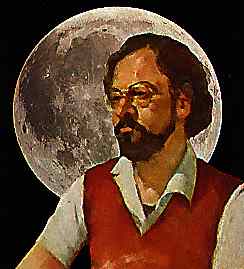 Carl Koppeschaar
---
Carl Koppeschaar studied astronomy and physics before dedicating himself to science writing. In his pursuit of the shadow of the Moon during total solar eclipses, he traveled to the most exotic places on Earth. The only place left to visit was the Moon, where he researched and wrote the Moon Handbook.
When not observing, doing research on influenza and number theory, managing educational websites or science writing, Carl may be found on golf links or hockey fields, trying to launch various projectiles into Low Earth Orbit.
On February 1, 2000 minor planet 7973 Koppeschaar in our solar system was named after him. On August 1, 2001 one of Uncle Scrooge's money entrepôts fell under the blows of the demolition ball for the erection of a statue for the 'inventor of the Moon Dial'.
Carl lives in the centuries-old city of Haarlem, The Netherlands.
Selected articles
C.E. Koppeschaar: The Mars effect unriddled. Science or Pseudo? The Mars effect and other claims. Proceedings of the Third EuroSkeptics Congress, October 4-5, 1991, Amsterdam, pp 162-184.

C.E. Koppeschaar: Sports and Recreational Activities on the Moon. ICEUM-4. Proceedings of the Fourth International Conference on the Exploration and Utilisation of the Moon, 10-14 July 2000. ESA SP-462, September 2000, ISBN 92-9092-689-2, pp. 337-339.

R.L. Marquet, A.I.M. Bartelds, S.P. van Noort, C.E. Koppeschaar, J.Paget, F.G. Schellevis and J. van der Zee: An internet-based monitoring of influenza-like illness (ILI) in the general population of the Netherlands during influenza seasons 2003-2004. BMC Public Health, 2006, 6:242. Ook als: Basados en Internet de vigilancia de síndrome gripal (ILI) en la población general de los Países Bajos durante la temporada de gripe 2003-2004.

S.P. van Noort, M. Muehlen, H. Rebelo de Andrade, C. Koppeschaar, J.M. Lima Lourenço, M.G.M. Gomes: Gripenet: an internet-based system to monitor influenza-like illness uniformly across Europe. Eurosurveillance, Volume 12, Issue 7-8, July/August, 2007.

I.H.M. Friesema, C.E. Koppeschaar, G.A. Donker, F. Dijkstra, S.P. van Noort, R. Smallenburg, M.A.B. van der Sande, W. van der Hoek: Internet-based monitoring of influenza-like illness in the general population: experience of five influenza seasons in the Netherlands. Vaccine, Volume 27, Number 45, 23 October 2009, pp. 6353-6357. ISSN 0264-410X.

Sander P. van Noort, Cláudia T. Codeço, Carl E. Koppeschaar, Marc van Ranst, Vitor Faustino, M. Gabriela M. Gomes: The Influenzanet self-reporting system warrants consistency in epidemic monitoring across countries and seasons. Accepted.

M.M.A. de Lange, A. Meijer, I.H.M. Friesema, G.A. Donker, C.E. Koppeschaar, W. van der Hoek: Comparison of five surveillance systems of influenza-like illness during the influenza A(H1N1)pdm09 virus pandemic and their link to media attention. Submitted.

Paolo Bajardi, Daniela Paolotti, Lorenzo Richiardi, Alessandro Vespignani, Sebastian Funk, Ken Eames, John Edmunds, Clement Turbelin, Marion Debin, Vittoria Colizza, Ronald Smallenburg, Carl Koppeschaar, Ana Franco, Vitor Faustino, Annasara Carnahan: Determinants of participation in the internet-based European influenza surveillance platform Influenzanet. In preparation.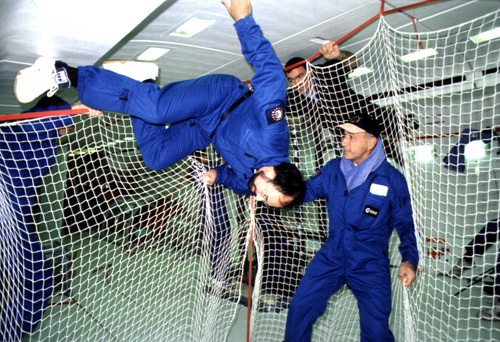 Carl Koppeschaar summersaulting in weightlessness during test flights with the Zero-G, supervised by Dutch first astronaut Wubbo Ockels.
---

Back to ASTRONET's home page
---