JOHAN CRUIJFF CONTINUES TO PLAY FOOTBALL IN OUTER SPACE
Minor planet 14282 now named "Cruijff"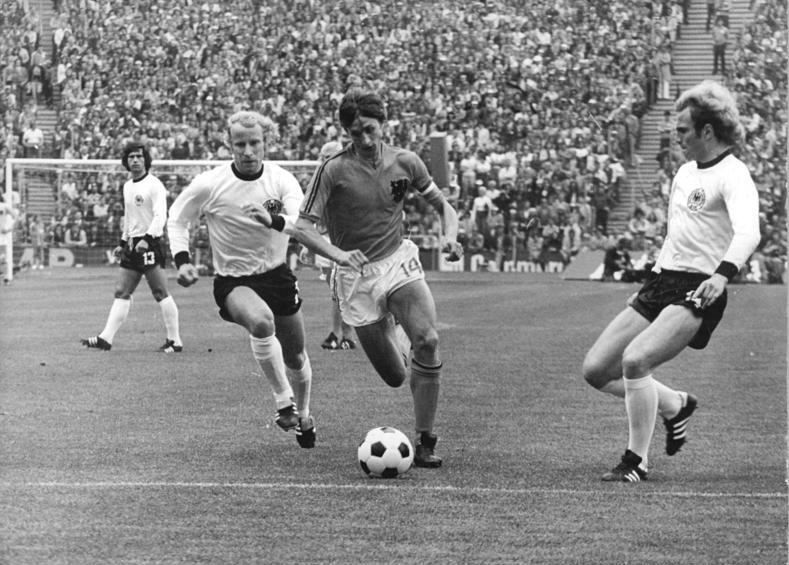 July 16, 1974. Johan Cruijff - carrying his favourite playing number 14 - rushes between Berti Vogts
(left) and Uli Hoeness (right). Less than a minute after the start of the World Cup Football
final, Cruijff was fouled by Hoeness, resulting in a penalty that was successfully scored by
Johan Neeskens. Everyone thought the Dutch team would win. But in the end Western Germany
won with 2-1.
Photograph: Bundesarchiv, Bild 183-N0716-0314 / Mittelstädt, Rainer / CC-BY-SA

---
September 23, 2010
Johan Cruijff will forever continue to play football in outer space. A minor planet that until recently was numbered 14282, now carries the name "Cruijff", to honour the legendary Dutch football player, coach of Ajax and FC Barcelona, and currently manager of the Catalonia national football team in Spain.
The name Cruijff was proposed by Dutch science journalist Carl Koppeschaar, who himself got a minor planet named after him in recognition of his promotion of astronomy and space research. The minor planet was discovered by Dutch astronomers Dr. Ingrid van Houten-Groeneveld and her late husband Dr. Cees van Houten on photographic plates that were taken by the American-Dutch astronomer Professor Tom Gehrels, using the large Schmidt Telescope at Mount Palomar in California. The International Astronomical Union (IAU) officially ratified the naming of Cruijff on September 23.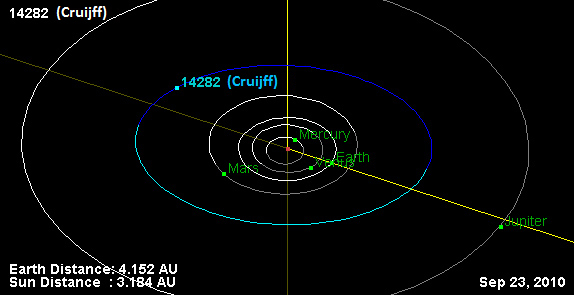 The orbit of minor planet (14282) Cruijff in our solar system.
Minor planet (14282) Cruijff orbits our Sun at a distance of 432 million to 477 milion kilometres. That is the space between planets Mars and Jupiter. A minor planet or "asteroid" usually consists of rock and metal and can vary in diameter between a small bedrock and a true mini planet meauring a thousand kilometres. The diameter of asteroid Cruijff is estimated as 9 kilometers. It orbits the Sun in 5 years, 3 months and 18 days.
Official citation
(14282) Cruijff = 2097 P-L

Discovered 1960 Sept. 24 by C.J. van Houten en I. van Houten-Groeneveld on Palomar Schmidt plates taken by T. Gehrels.

Hendrik Johannes ("Johan") Cruijff (b. 1947) is a legendary Dutch football player who also became successful as a football coach in The Netherlands and Spain. His Cruyff Foundation supports projects for disabled and disadvantaged children. The name was suggested by C.E. Koppeschaar.
Minor planets
Most minor planets orbit the Sun in the space between the planets Mars and Jupiter. But some of them have more elongated orbits and can graze the Earth and threaten life with mass extinction. It is believed that 65 million years ago the impact of a 15 km large minor planet ended the era of the dinosaurs.

Although the orbits of a quarter of a million minor planets are now well established, less than ten percent has been officially named. Only the discoverers of minor planets have the right to name them. Sometimes they are adviced by other experts.

Johan Cruijff is the third football player after Czech-Austrian player Josef "Pepi" Bican (1913 - 2001) and Hungarian player Ferenc Puskás (1927 - 2006) to have been immortalised in the sky. He is the 22nd sports champion worldwide (including chess) who receives this extremely rare honour. Among those who preceded him are the famous American baseball players Joe DiMaggio (1914 - 1999) and Lou Gehrig (1903 - 1941), American athlete Jesse Owens (1913 - 1980), Spanish tennis player Rafael Nadal and Belgian tennis champions Justine Henin and Kim Clysters. Cruijff is the first Dutch sports champion to lend his name to a minor planet.
---
Biography
Hendrik Johannes Cruijff (born 25 April 1947 in Amsterdam, The Netherlands), known as Johan Cruyff, is a retired Dutch football player and is currently the manager of the Catalan national team in Spain. He won the Ballon d'Or three times, in 1971, 1973 and 1974, which is a record jointly held with Michel Platini and Marco van Basten. Cruyff was one of the most famous exponents of the football philosophy known as Total Football explored by Rinus Michels, and is widely regarded as one of the greatest players of all time.

After his retirement from playing in 1984, Cruyff became highly successful as manager of Ajax and later Barcelona; he remains an influential advisor to both clubs.

In 1999, Cruyff was voted European Player of the Century in an election held by the IFFHS, and came second behind Pelé in their World Player of the Century poll. He came third in a vote organised by the French weekly magazine France Football consulting their former Ballon d'Or winners to elect their Football Player of the Century.

Cruyff was known for his technical ability, speed, acceleration and dribbling but his greatest quality was vision, based on an acute sense of his team-mates' positions as an attack unfolded. The sports writer David Miller believed Cruyff superior to any previous player in his ability to extract the most from others. He dubbed him "Pythagoras in boots" for the complexity and precision of his angled passes and wrote: "Few have been able to exact, both physically and mentally, such mesmeric control on a match from one penalty area to another." Cruyff also perfected a move now known as the "Cruyff Turn." To do this move, Cruyff would look to pass or cross the ball. However, instead of kicking it, he would drag the ball behind his planted foot with the inside of his other foot and turn through 180 degrees and accelerate away outside a defender.
Career
Cruyff played for Ajax, Barcelona, Los Angeles Aztecs, Washington Diplomats, Levante, and Feyenoord during his career.

As a Dutch international, Cruyff, played 48 matches, scoring 33 goals. In his second Dutch national team match, a friendly against Czechoslovakia, Cruyff was the first Dutch international to receive a red card. He received a one-year suspension from the Royal Dutch Football Association.

Cruyff led the Netherlands to a runners-up medal in the 1974 World Cup and was named the player of the tournament. Thanks to his team's mastery of Total Football, they coasted all the way to the final, knocking out Argentina (4–0), East Germany (2–0), and Brazil (2–0) along the way. Cruyff himself scored twice against Argentina in one of his team's most dominating performances, then he scored the second goal against Brazil to knock out the defending champions. The Netherlands faced hosts West Germany in the final. Cruyff kicked off and the ball was passed around the Oranje team 13 times before returning to Cruyff, who then went on a rush that eluded Berti Vogts and ended when he was fouled by Uli Hoeness inside the box. Teammate Johan Neeskens scored from the spot kick to give the Netherlands a 1–0 lead, and the Germans had not even touched the ball. Only during the latter half of the final was his playmaking influence stifled by the effective marking of Berti Vogts, while Franz Beckenbauer, Uli Hoeness, and Wolfgang Overath dominated the midfield, enabling West Germany to win 2–1.

Cruyff retired from international football in October 1977, having helped the national team qualify for the upcoming World Cup. After retiring from playing, Cruyff followed in the footsteps of his mentor Rinus Michels, coaching a young Ajax side to victory in the European Cup Winners' Cup in 1987. It was during his period as manager that Cruyff was able to implement his favoured team formation—three mobile centre halves plus one covering space, almost a holding midfielder rather than sweeper, two controlling midfielders with responsibilities to feed the attack-minded players, one shadow striker, two touchline-hugging wingers and one all-round centre forward. So successful was this system that Ajax won the Champions League in 1995 playing Cruyff's system. Terry Venables as England manager was an advocate of this system, based on free-flowing football and intelligent and incisive individuals carrying out seemingly simple functions, in the Euro 1996 semi-final versus Germany, England used this system effectively.

In 1988, Cruyff returned to Barcelona as manager. Under Cruyff, Barcelona won La Liga four times between 1991 and 1994, and beat Sampdoria in both the 1989 European Cup Winners' Cup final and the 1992 European Cup final at Wembley. They also won a Copa del Rey in 1990, the European Super Cup in 1992 and three Supercopa de España.

Cruyff used to smoke 20 cigarettes a day prior to undergoing double heart bypass surgery in 1991 while he was the coach of Barcelona, after which he gave up smoking. He also led the anti-smoking campaign developed by the Health Department of the Catalan autonomous government. And Cruyff juggled a cigarette pack 16 times in an anti-tobacco video sponsored by the Catalan Department of Health.[19][20][21] With 11 trophies, Cruyff has been Barcelona's most successful manager to date as he had more trophies to show for his tenure, as well as being the club's longest serving manager. However, in his final two seasons, he failed to win any trophies, and fell out with chairman Josep Lluís Núñez; this resulted in his departure from the club, and he vowed never to coach again. Known as a player's coach with deep convictions with regard to his philosophy of the game, Cruyff is considered a visionary and his presence at Barcelona was said to have changed many things and this was the beginning of what is known as the "Dutch influence" at Barcelona. The style of play Cruyff introduced at Barcelona came to be known as tiki-taka and was successfully adopted by the Euro 2008 and 2010 World Cup winning Spanish national team.

On 26 March 2010, Cruyff was named honorary president of Barcelona, in recognition of his contributions to the club as both a player and manager. He was stripped of this title by new owner Sandro Rosell in July 2010.

On 2 November 2009, Cruyff was named as manager of the Catalonia national team.
---
MORE TO READ
Johan Cruijff
International publicity:
Minor planets

---

Back to ASTRONET's home page